Weber® BBQ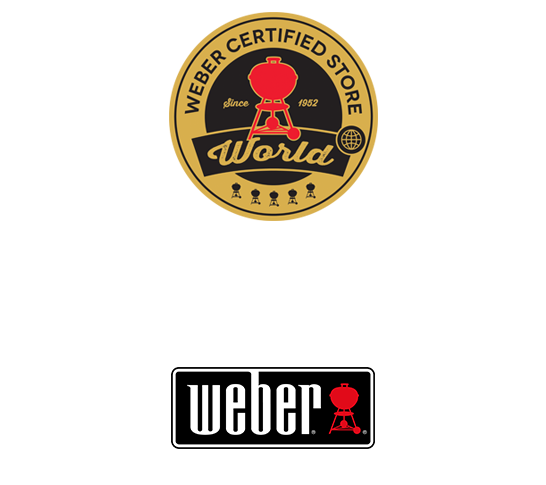 ---
Officially the Largest Weber® BBQ World Store in the UK
Here at Riverside, we are proud to boast the largest Weber® BBQ showroom in the UK with every Weber® barbecue, accessory and official Weber® branded product on show and in every available colour too allowing you to make a truly informed choice and ensure you get what is right for you.
In addition, we have a comprehensive collection of Weber® spares for both current and discontinued Weber® models allowing you to keep your cherished family barbecue grilling perfect food forever!
Our in-store specialists know every Weber® BBQ product almost as well as Weber® do themselves, so if your question can't be answered by looking through the informative pages of our website then our team of experts are always at hand, be it at the end of a phone or in our 7-days-a-week showroom to offer assistance.
We fully understand and appreciate that be it gas, charcoal - or even electric! - choosing the right Weber® BBQ to suit your needs (and budget!) is important. With this in mind, we host regular demo days and masterclasses at our purpose-built BBQ School throughout the year to give you the opportunity to see the barbecues in action and to compare sizes, features and even fuel types and to teach you BBQ techniques to help you get the most out of your grill.
Be it a portable Weber® barbecue you're after to chuck in the boot of the car and go off for a spur-of-the-moment picnic, a medium-sized charcoal family grill for a rotisserie chicken, a substantial gas unit to cater for large numbers or even a smoker for some low and slow brisket, we have the lot!
Weber® Portable Barbecues
Weber® Portable BBQs are a brilliant and convenient way of allowing you to enjoy your favourite dishes on the go. Just because they are small doesn't mean they are not versatile and it is just as possible to conjure up a grilled trout on a Weber® Go-Anywhere® Charcoal or Gas on the beach (see our YouTube video for proof!) as it is a burger and veggie sausage on a campsite using the nation's favourite portable; the Weber® Smokey Joe® Premium 37cm and even the new portable BBQ from Weber® The Traveler. 
Weber® Charcoal Barbecues
Famous all over the world, the Weber® kettle is the iconic charcoal barbecue. Of timeless design, quality build and finish and in most cases as versatile as any of its gas cousins, there is a Weber® charcoal BBQ for everyone.
The entry-level Weber® Compact 47cm, Black and Weber® Compact 57cm, and the Weber® 5710 and Weber® 5730 all perfectly suitable to get your barbecuing journey underway just like the Weber® Original Kettle® has done for many years.
For those garden grillers looking to develop their barbecuing and looking for endless possibilities with their al fresco repertoire, the best-selling Weber® Master-Touch GBS® 57cm in any of the three colours is more than up to the job: Black, Slate or Smoke.
There's the 2019 creme-de-la-creme Weber® Master-Touch® GBS® Premium E-5775 57cm, made for the low and slow cooks in-mind and with a hinged lid makes it super easy to access the food you are cooking. This unique barbecue also comes with a charcoal ring, heat deflector and sear grate.
Packed with features including the Weber® One-Touch® cleaning system, ash catcher, Tuck-Away lid bale and built-in thermometer the Weber Master-Touch® GBS® 57cm has it all.
What is more, coming with a Weber® 57cm triple-plated, hinged Gourmet BBQ System® cooking grate as standard means the barbecue is already compatible with the entire range of Weber® GBS® inserts (all sold separately) including the Dutch Oven, Chicken Roaster, Pizza Stone, Wok and Waffle / Sandwich Iron as well as offering the opportunity to ramp up the temperature of the cooking grate by as much as an extra 50 degrees by introducing the cast iron Sear Grate or Griddle (again, sold separately) to the barbecue - perfect for sealing meat and getting that pattern onto your steak!
If that wasn't enough you can take the Weber® Master-Touch® GBS® E-5755 57cm - Black and Weber® Original Kettle®s cooking possibilities even further as they are all compatible with the Weber® Kettle BBQ Rotisserie (sold separately).
Other variations on the charcoal theme include the Weber® Performer® GBS® 57cm, Black and Weber® Performer® Deluxe Gourmet GBS® 57cm, Black (both with work tables) or for those who want 'big' the World Store exclusive Weber® Summit® Kamado Charcoal Grill, Black or the 'new for 2017' Weber® Summit® Kamado Charcoal Grilling Centre, Black.
The Spirit range has been refreshed over the past few years. The Weber® Spirit® models are a good way to start gas barbecuing. Whether you're using a 2-burner Weber® Spirit® II E-210, Black or a 3-burner Weber® Spirit® EPX-325s GBS®, all Weber® Spirit® BBQs come with a good reputation.
Still, a firm favourite amongst keen beginners and more experienced BBQ chefs alike the ever-present Weber® Q® range still brings its unique presence to the table.
From the small Weber® Q® 1200 with stand, the ever-popular Weber® Q® 2200, all the way up to the Weber® Q® 3200 each of these funky models oozes personality and fun as well as perfectly cooked food thanks to its unique Q-shaped burner.
And for those living in a flat where gas and charcoal barbecues are not allowed to be used on the balcony, there's Weber® Q® 1400 Electric barbecue to solve that problem!
Weber® Smokey Mountain Cooker
Available in 3 sizes (37cm, 47cm and 57cm) the bullet-shaped Weber® Smokey Mountain Cooker - or Weber® Smoker - is designed for slow cooking and softening those large cuts of meat, perfectly cooking racks of succulent ribs or simply adding a smoky flavour to fine cuts of fish.
Weber® Accessories & Spares
To get the most out of your Weber® BBQ, Weber® accessories are designed to help make life easier and look after your grill.
In addition to the products you would expect to see on the shelves; Weber® BBQ covers, charcoal, disposable gas canisters, Weber® BBQ cleaning products and tongs there are a number of barbecue-specific and specialist products too. Chimney starters, replacement grates, Flavorizer® Bars, warming racks and rotisseries are all popular amongst keen barbecuers but 2017 sees the introduction of a new product to give greater control and more consistency when cooking; the Weber® iGrill 3 thermometer.
Designed to be used with a smartphone, the versatile Weber® iGrill 3 constantly monitors the internal temperature of your cooking food thanks to its electronic probes and sends the information to your phone via Bluetooth meaning you don't have to keep lifting the barbecue lid and losing the heat to manually check the temperature.
Weber® have recently introduced smart technology into their grills and on the connect hub. Bringing the world of cooking to your finger tips.  
Riverside is open seven-days-a-week all year round so please feel free to come and experience the World of Weber® right here in Hertfordshire! And remember, if Weber® do it then we do it!